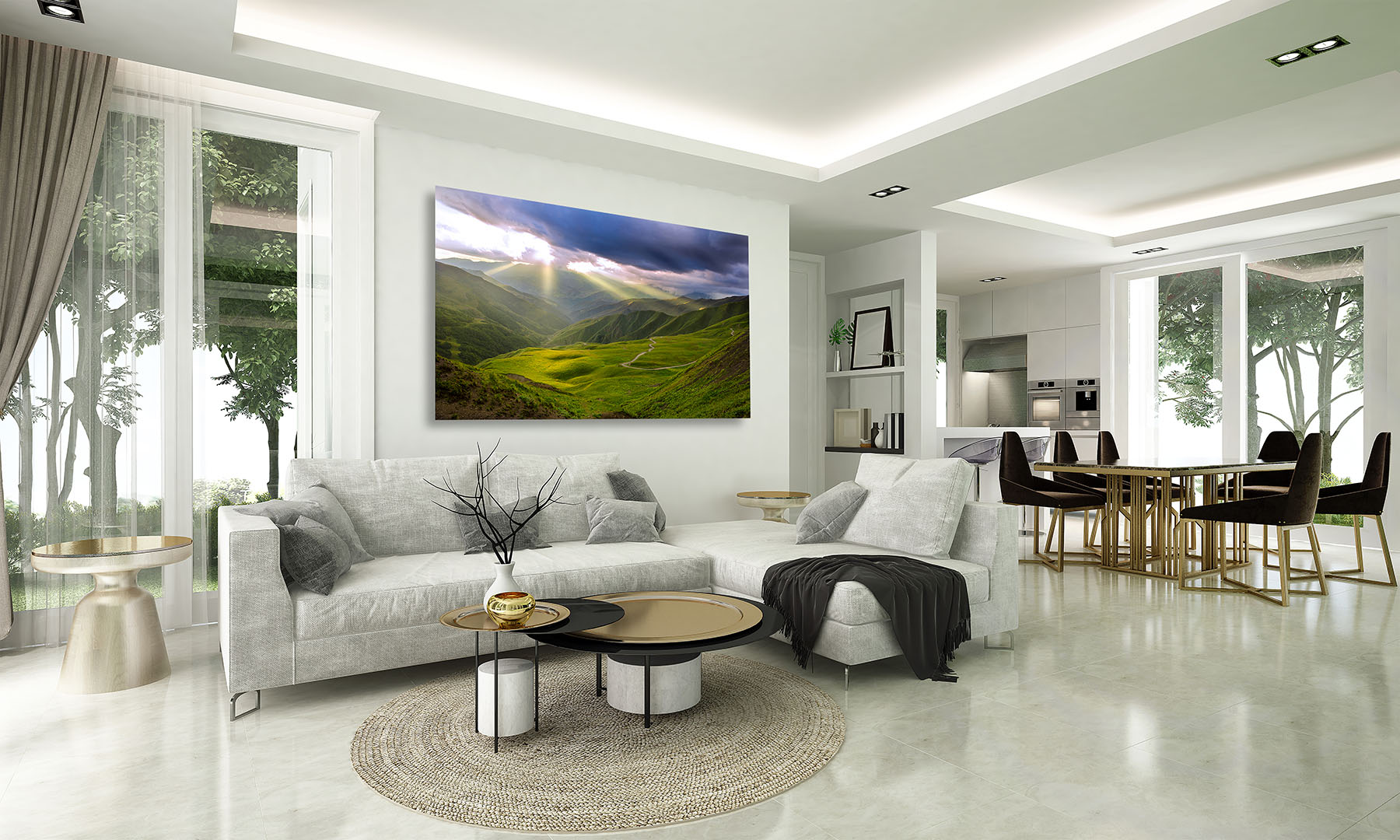 Enjoy the beauty of creation and create your own sanctuary by decorating your home or office walls with my exquisite limited edition fine art photography pieces. With my beautiful pieces of artwork, you will bring enrichment to your life through a visual experience which allows your mind and body to relax and reflect on the beauty of our natural world.

The very best prints that I offer are my Lumachrome acrylic prints. I also offer Chromaluxe aluminum prints and Fuji Flex supergloss paper prints. My Lumachrome and Chromaluxe prints arrive ready to hang on a "float mount" system that does not require external framing which reduces the cost. Shipping is free anywhere within the United States for prints up to 60 inches.

The information below provides all the details about the artwork that I offer and the purchasing process within this website. Please reach out to me anytime with any questions you may have as I enjoy speaking personally with potential customers.
---
Lumachrome Acrylic Prints
Acrylic prints are the creations of desire that can be found hanging in the finest galleries in New York City, Las Vegas, and in art destinations worldwide. The very best fine art prints that I offer are Lumachrome acrylic prints which bring unbelievable resolution, clarity, and vibrancy with an incredible 3D image quality that can appear backlit and holographic.
These world class artworks will transform any room in your home or office and become the center of attention by creating a statement piece that is sure to catch anyone's eye. The gallery quality of a Lumachrome acrylic fine art print coupled with the images I create, provide a breathtaking visual experience. Because of the 3D image quality of a Lumachrome print, viewers of my artwork often make the statement that they feel like they are in the scene, whether its a beautiful lush forest, a calm quiet lake, or an alluring landscape of mountains and wildflowers.
The process of creating a Lumachrome acrylic print is proprietary, making them a unique fine art print. Museum quality transparency paper is face mounted to a crystal clear sheet of acrylic glass and supported by a pure white protective backing. As differing intensities of light fall across the print the luminescence changes creating a glowing effect that is truly amazing. The superior quality of my Lumachrome prints are my premium product and are the preferred choice among collectors and artwork lovers. My Chromaluxe and Fuji Flex prints do not offer these qualities.
Lumchrome acrylic prints do not require external framing. Instead, they come with a "float mount" on the reverse, which when hung gives the appearance that it's floating off the wall. However, if desired, I offer elegant ROMA external framing exclusive to my Lumachrome acrylic prints. See below for details.

Radiant glowing response under lighting

Luminescence changes as light intensity changes
Unbelievable clarity and vibrancy
Details appear to emerge in 3D
Appear backlit and holographic

Collectors and artwork lovers preferred choice
Frameless - no external frame required
Ready to hang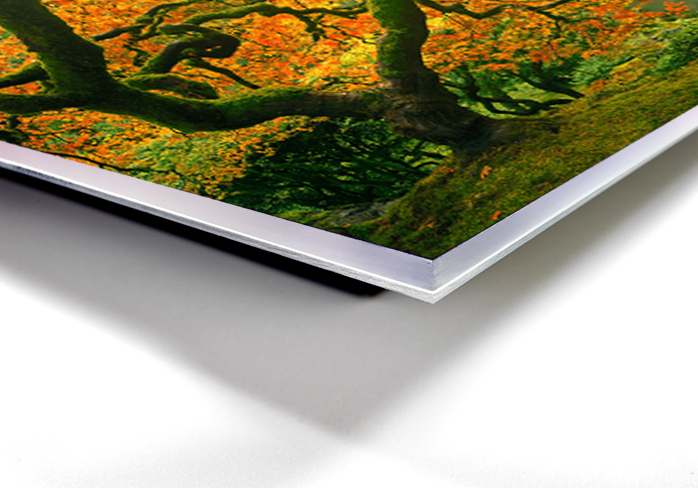 TRULIFE ACRYLIC SURFACE
All my Lumachrome acrylic fine art prints come with the TruLife acrylic surface. TruLife features a virtually invisible anti-reflective coating allowing viewers to see the finest details. TruLife is also UV-filtering, abrasion resistant, and anti-static offering uncompromising protection and preservation.

Anti-reflective - reflections are nearly invisible
Vibrant colors, depth, and clarity
Abrasion resistance
Anti-static properties to minimize dust
99% UV protection
Cleans like glass - no special acrylic cleaner required
EDGE FINISHING
My Lumachrome acrylic prints come with an optically clear edge finish which gives outstanding aesthetics. These fine art prints will glow in the acrylic process and the edge treatment is just as important to getting a quality presentation as the print process. This finishing gives the edges a clean sophisticated look that compliments the sleek and contemporary look of the optically clear acrylic surface.
---
Lumachrome Frame Options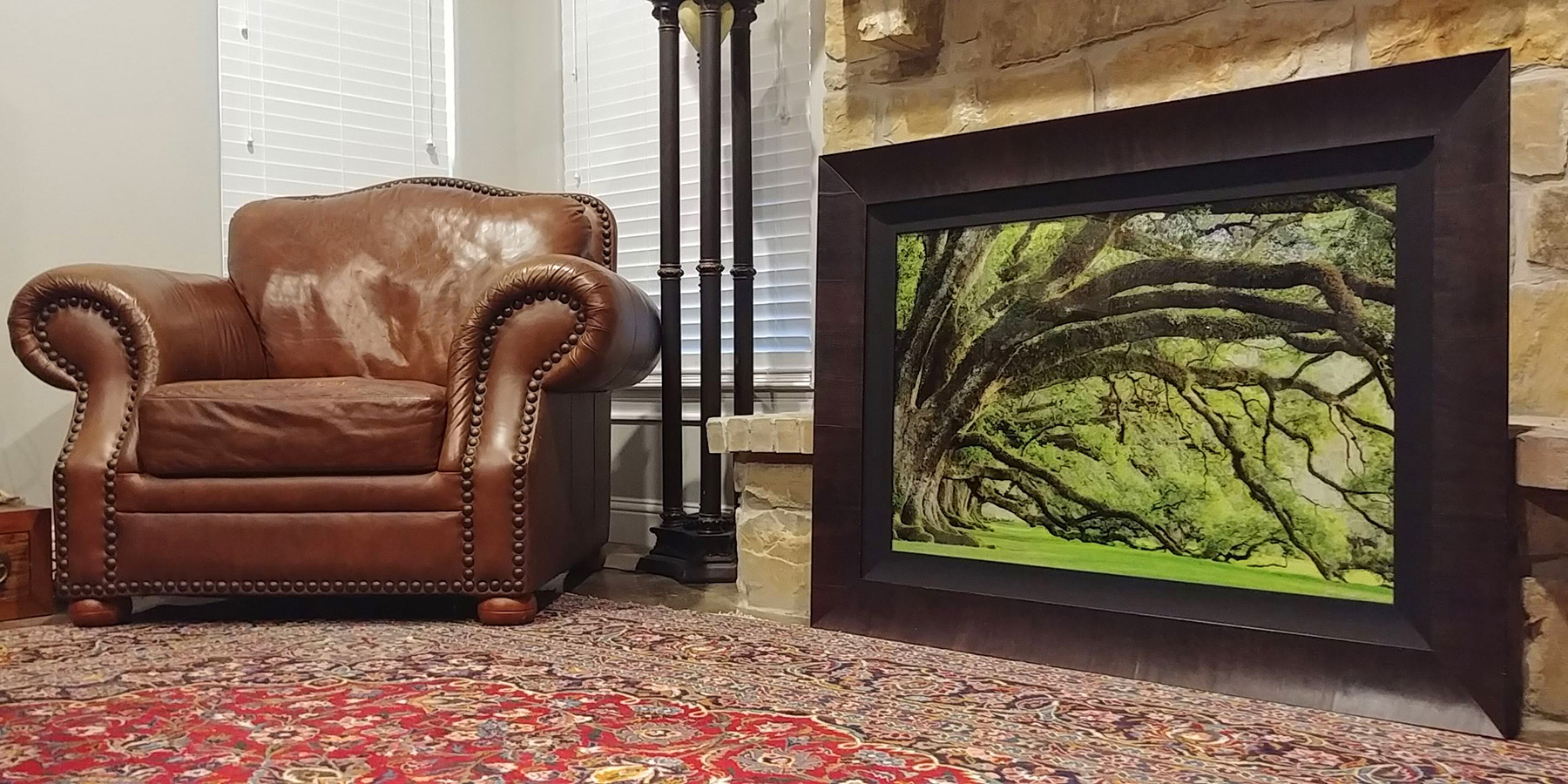 Enhance any Lumachrome acrylic fine art print with elegant and luxurious Tabacchino Dark Ash framing from ROMA moulding. Exclusive to Lumachrome acrylic prints only, this Italian handmade framing will accentuate your fine art piece by providing a sophisticated appearance. I personally recommend complimenting your Lumachrome acrylic print with an earth tone ROMA framing option such as the distinguished Dark Ash color with the black linen liner I offer. Other options may be available upon request. If this framing option is your desire, select the Framed Lumachrome Acrylic Fine Art Print option available for each photo from any gallery on my website.
Elegant design
Handmade in Italy
Luxurious look and feel
Breathtaking visual experience
Ready to hang
---
Chromaluxe Aluminum Prints
Chromaluxe brings a stunning medium to fine art prints by using high definition aluminum panels coated with a very fine polymer finish. Using the state-of-the-art process of sublimation, inks are infused directly into the surface resulting in colorful, vibrant and detailed prints. Chromaluxe prints are extremely durable with a resistance to scratching, fading, moisture, and even flames. No glass or external framing is involved and arrive ready to hang with the "float mount" system on the reverse. They are effortless to clean, requiring only simple glass cleaner. These pieces are ideal for public areas, offices, or any home environment.

Color brilliance
Fade resistant
Scratch resistant
Easy to clean
Frameless - no external frame
Ready to hang
---
Fuji Flex Supergloss Prints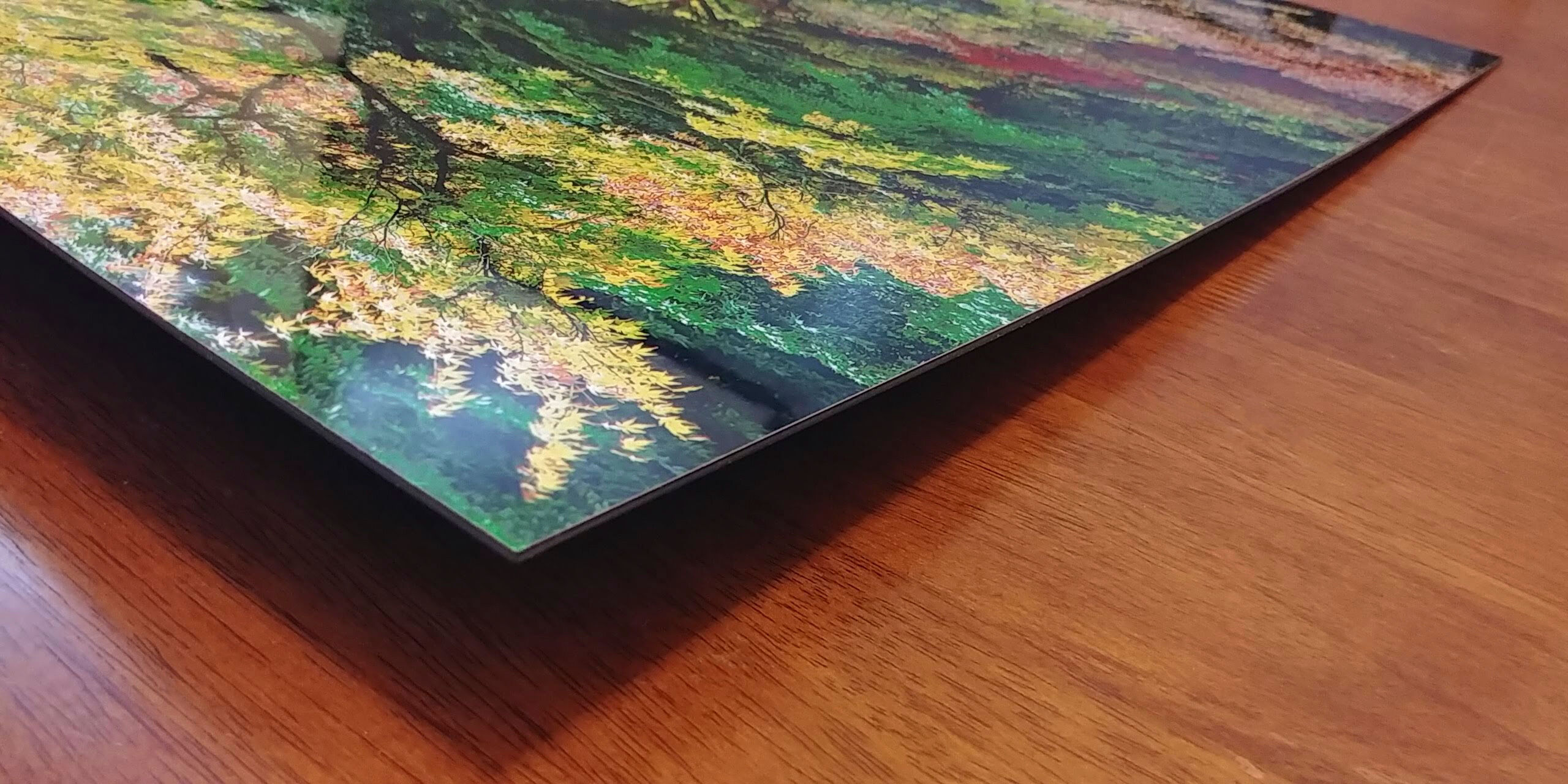 Fuji Flex supergloss prints are a quality professional photographic medium. The unique polyester base of Fuji Flex provides an ultra high gloss pearlescent appearance that creates depth and dimensionality. Fuji Flex prints have vibrant colors that are deep and rich due to the very large color gamut. These prints are mounted on a thin, rigid, archival backing board and are only available in sizes up to 36 inches wide. Fuji Flex prints are loose prints that require framing prior to display. For a ready to hang piece, please consider my Lumachrome or Chromaluxe options above.
---
Make your dream a reality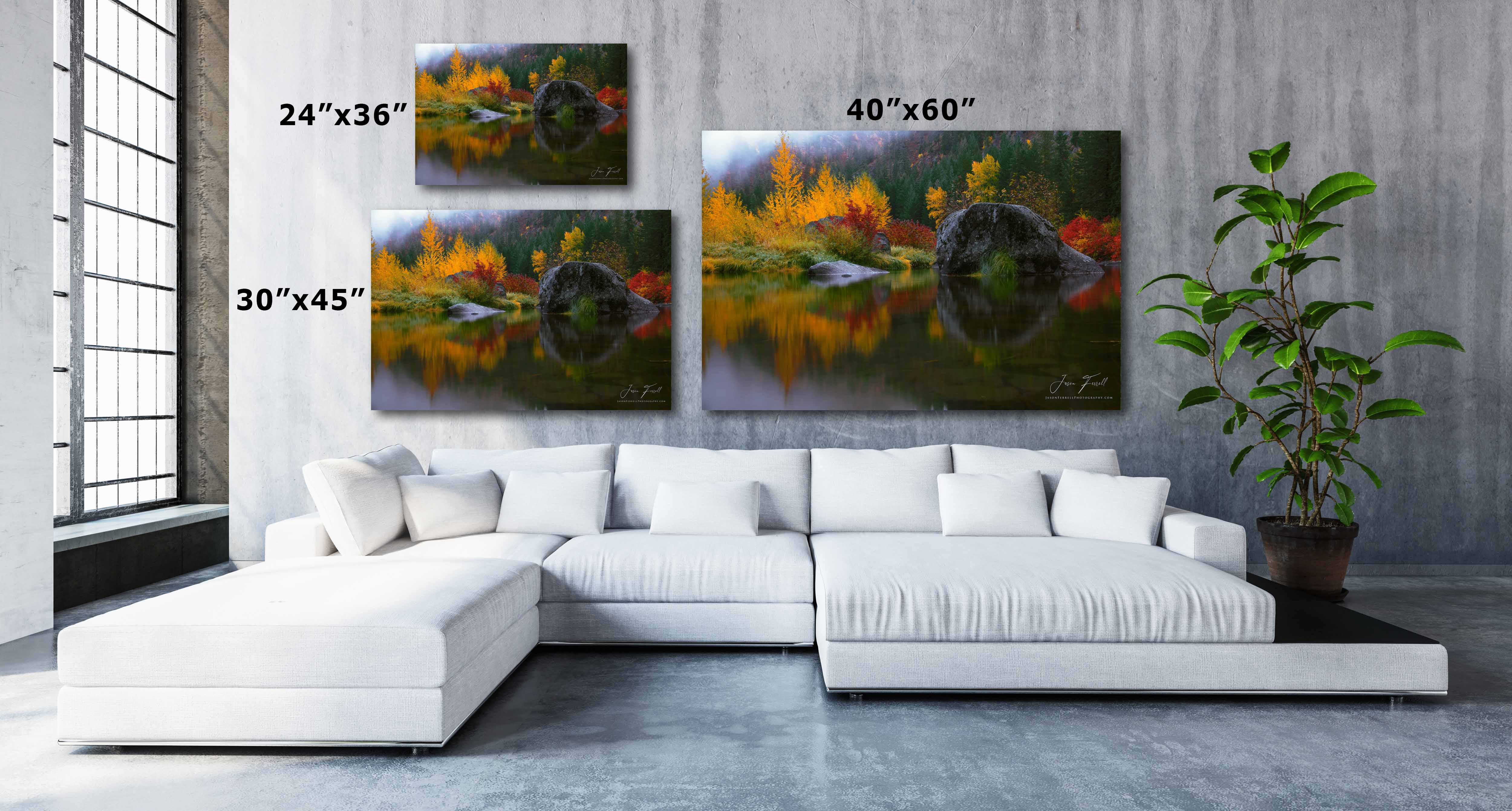 CHOOSING A PRINT AND SIZE
Deciding on a fine art piece can be a daunting task. Will it complement the colors of my room? What size is best? Will I like the way it looks on the wall? These are all good questions and when it comes to investing in quality fine art the last thing you need is a pushy salesman pressuring you when you are uncertain.
When investing in one of my fine art prints, I invest my time in you by offering my personal interior design service. Contact me directly with the title of the fine art piece(s) and size(s) you are interested in and I will help you visualize each piece on your wall. I will reply and ask you to send me a well-lit photo of the room and wall space you are considering. Using your photo, I will then create a custom interior design representation of my artwork displayed on your wall and send it back to you. This interior design service will give you the confidence you need and answer your questions before investing in my artwork.
---
Limited Edition Prints

All of my prints are exclusively sold as limited edition prints. Limited Edition means that there will only ever be a pre-determined number of prints produced of each photograph. Once the edition sells out, there will never be another reprint of that photograph. My limited editions come in multiple sizes ranging from 25-200 signed prints.
---
Artist's Proof and First Printing
Along with each new limited edition piece, I also offer 1 Artist's Proof and 1 First Printing. I don't offer hundreds of Artist's Proofs like some other widely known artists. If you own an Artist's Proof of mine you own the only one in the world. These extremely rare fine art prints are for anyone seeking a truly unique, one-of-a-kind artwork piece. They also make a great gift for that special someone or business partner. To inquire about the availability of an Artist's Proof or First Printing, please contact me directly.
Artist's Proof (AP)
With each image release, only 1 numbered and signed Artist's Proof is made available. These exclusive editions are regarded as personal to the artist and therefore highly sought after by serious collectors. Each Artist's Proof is signed AP #1/1 and along with a Certificate of Authenticity, a personal handwritten letter is also provided to share my personal thoughts and experience on how the image came to be. Artist's Proofs are only offered as Lumachrome acrylic fine art prints at 45, 60, or 72 inches and require an investment of $8000.

First Printing (FP)
Like Artist's Proofs, there is only one First Printing for each piece in my limited edition collections. When I create a new limited edition piece, I decide on the limited number of pieces to be sold, usually between 25 and 200. I withhold the #1 print of each run either for myself or to sell to a collector. First Printing pieces are numbered FP #1 of however many pieces are in the run (FP #1/100 for example). First Printings are printed as a Lumachrome acrylic or Chromaluxe aluminum fine art print regardless of size and medium. An investment of $2000 more than the normal price of the piece is required. A First Printing can be purchased in advance of the selection selling out, but as there is only one First Printing per image in my limited edition collections, they are more valuable and rare than the full body of the limited run.

---
Authenticity and Provenance

Each one of my limited edition fine art prints features a digitally embedded signature and edition number on the face of the artwork in the lower right corner. This digital signature ensures the authenticity and longevity of the provenance. A signed Certificate of Authenticity with the matching number on the print is also provided and in most cases shipped separately.
---
The Purchasing Process
All fine art prints are available for purchase directly through this website. Select the size of each print you wish to order by clicking the ADD TO CART button located below each image at the bottom of each product box. When you are ready to complete your order, click the CHECKOUT button. Your personal billing and shipping information will be gathered on the next page on a PayPal secure server. All transactions are processed without sharing your financial details.
A PayPal account is not needed to process credit card payments. Credit cards will be processed upon submission of your order. If you prefer to be invoiced, please reach out to me and I'd be more than happy to work with you regarding your particular needs.
Free shipping and handling is available anywhere in the United States for pieces 60 inches and smaller. Deliveries outside of the United States (including Canada) or pieces larger than 60 inches, require additional shipping costs. To receive a shipping estimate please provide details about your order and your address via email. For time sensitive orders, expedited shipping may be available.
---
Production & Shipping
Your print(s) is custom made when ordered and put into production within 24 hours. Fuji Flex paper prints are delivered in 1-2 weeks. Chromaluxe aluminum prints are delivered in 2-3 weeks. Lumachrome acrylic prints are delivered in 3-4 weeks. Prints that are over 60 inches and/or include external framing may take longer, but I'm confident that your patience will be rewarded. International orders will require a longer delivery time.

Prints are professionally packaged and fully insured to your door. Due to freight company requirements, deliveries must be inspected within 48 hours of receipt. Upon arrival, if large obvious damage to the packaging is visible, the order must be refused at the time of delivery. In the extremely rare case where artwork arrives damaged during delivery, yet the packaging looked undamaged, simply photograph the packaging and the piece and send the photos directly to me. In the unlikely event of damage to artwork during shipping, a replacement will be placed into production and a second delivery made at no additional cost to you.
---
Quality Customer Service
My high standards for quality fine art prints and customer service are my utmost importance. I go to great lengths to produce the best fine art prints you will ever visually experience. I also pride myself with the high level of customer service I provide so that your experience of investing in a fine art print from me is as easy and stress free as possible.
I am committed to serving you with clear and prompt communication coupled with friendly and sincere service. I guarantee complete satisfaction and enjoyment of your piece. If you have any concerns or questions during the ordering process or after receiving your piece, please reach out to me so that I can assist you.
---